blazer that was sliced open down the center, held together by small chains. Underneath the blazer, Sydney Sweeney wore a sheer black bodysuit, revealing a red bra and high-waisted black briefs.
The outfit was a bold departure from Sweeney's usual red carpet style, which tends to be more classic and refined. The cutout blazer made a statement and showed off the actress's figure, while the sheer bodysuit added a touch of sex appeal.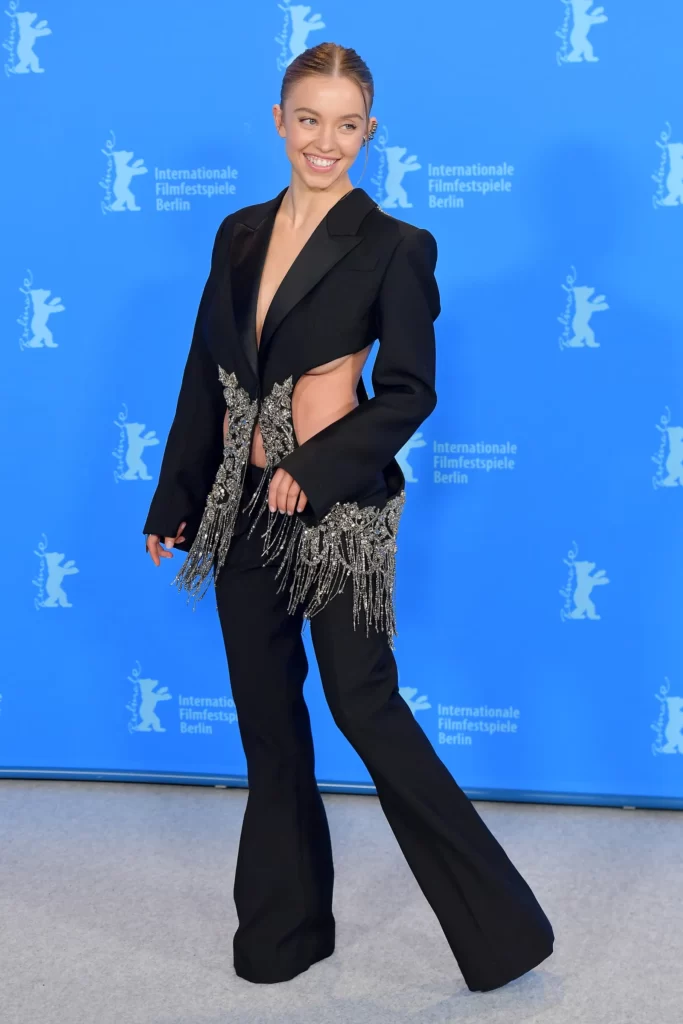 But the real showstopper of Sweeney's outfit was her hair and makeup. The actress channeled her inner Jessica Rabbit, with her long red hair styled in soft curls and parted to one side. Her makeup was also reminiscent of the cartoon bombshell, with a bold red lip and dramatic winged eyeliner.
Sweeney's fashion choices have been making headlines lately, and this latest look is no exception. The actress has been pushing the envelope with her style, opting for daring and unconventional pieces that showcase her individuality and confidence.
In a recent interview with Vogue, Sweeney discussed her approach to fashion and the importance of expressing herself through her style choices. "I like to have fun with fashion and not take it too seriously," she said. "It's a way for me to express myself and show different sides of my personality."
With her latest red carpet look, Sydney Sweeney proved once again that she is not afraid to take risks and make a statement. The cutout blazer and Jessica Rabbit-inspired hair and makeup created a bold and memorable look that is sure to go down in fashion history.