Jill Biden, the First Lady of the United States, has been making waves with her fashion choices during her recent Africa tour. On Wednesday, she stepped out in a powerful regal purple skirt suit while in Namibia. This was the second time this month that she chose the striking color, having worn a regal purple dress for the 2023 State of the Union Address earlier this month.
The deep purple power suit, paired with a white blouse, was a bold fashion statement, signaling the importance of the occasion and the First Lady's commitment to the trip. The outfit was accessorized with a selection of necklaces, earrings, and a pair of nude heels, creating a stylish and sophisticated look.
Biden's fashion choices have been a topic of interest since her husband took office, with many noting her preference for supporting American designers and incorporating meaningful messages through her outfits. For example, the first lady made a statement during her husband's presidential campaign by wearing a blazer with the word "vote" on the back.
While some may dismiss fashion as trivial in the context of politics, Biden's wardrobe choices are significant in their ability to convey messages and create a memorable visual impact. By choosing to wear purple on multiple occasions, the first lady is sending a message of unity and bipartisanship, as purple is a mix of red and blue, the colors typically associated with the Republican and Democratic parties, respectively.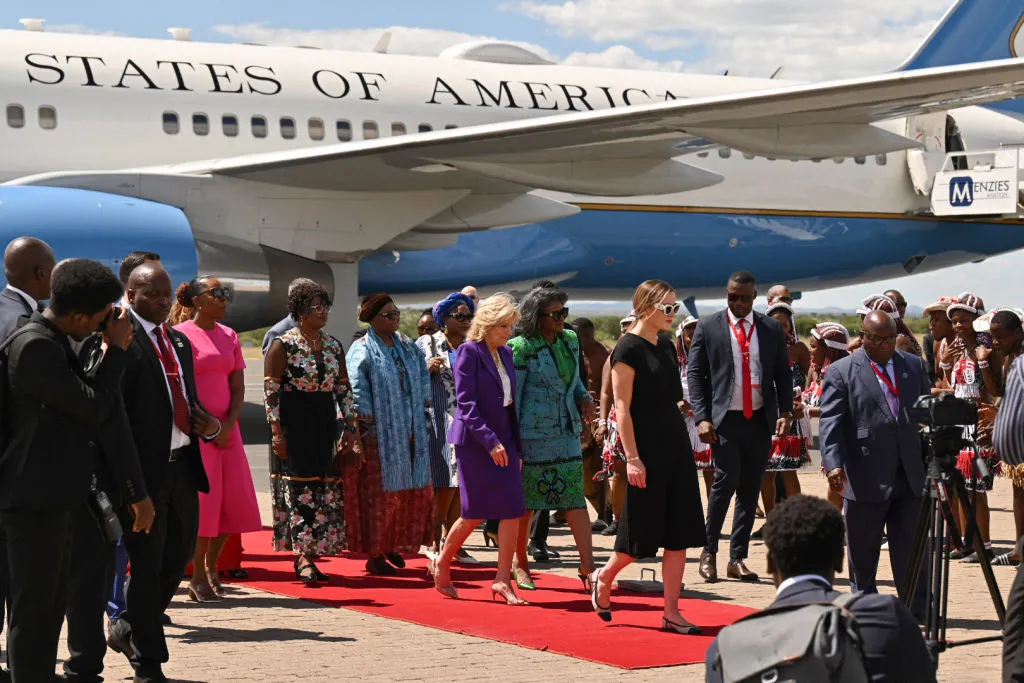 In addition to making a statement through her fashion, Biden's Africa tour is focused on highlighting the importance of education, health, and women's empowerment. Her trip includes visits to schools and health centers in several countries, as well as meetings with local leaders and advocates.
Overall, Biden's choice of a regal purple power suit during her Africa tour is a powerful example of how fashion can be used to convey messages and create a lasting impact. Her commitment to supporting American designers and promoting meaningful causes is admirable and serves as an inspiration to many.